Installation Instructions
Download the zip file using your desktop PC. If you are using Windows XP, you need to be logged on as an administrator to run the installer. Extract the contents of the .zip file onto your desktop PC (on Windows XP simply right-click and choose 'Extract all').
You need to have Nokia PC Suite version 6.5 or newer installed. If you have Nokia PC Suite installed just go ahead and try the installation. If you receive an error message saying that ConAPI.DLL can not be found, then it means that your Nokia PC Suite is too old. Please update your Nokia PC Suite to the latest version. It's free, and it has improved substantially from the versions prior to 6.5, therefore it will benefit your daily use as well. The easiest way to find the download page for the latest Nokia PC Suite is to go to Nokia's website. We are not including a direct link here as the location changes from time to time.
After you click on Installer this is what you should see (example is from S80-version but the process is the same for S60-version):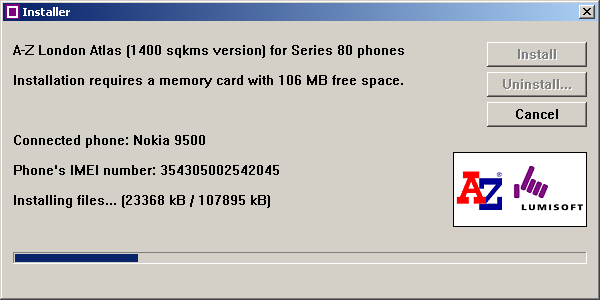 If it says 'No phones connected' then please make sure that your Nokia phone is properly connected to the PC using the USB cable (fastest) or Bluetooth or Infrared (slowest). When you see your phone listed as in the picture above then click 'Install'.
Installation will take a little while. The good news is that unlike other installations here you do not need to press any buttons on the phone itself. Just leave the installation process running until there is a message saying 'Installation complete' on your PC desktop. When the installation is complete an AZ icon will appear on the main menu of your phone. Run the application and enter the unlock code.